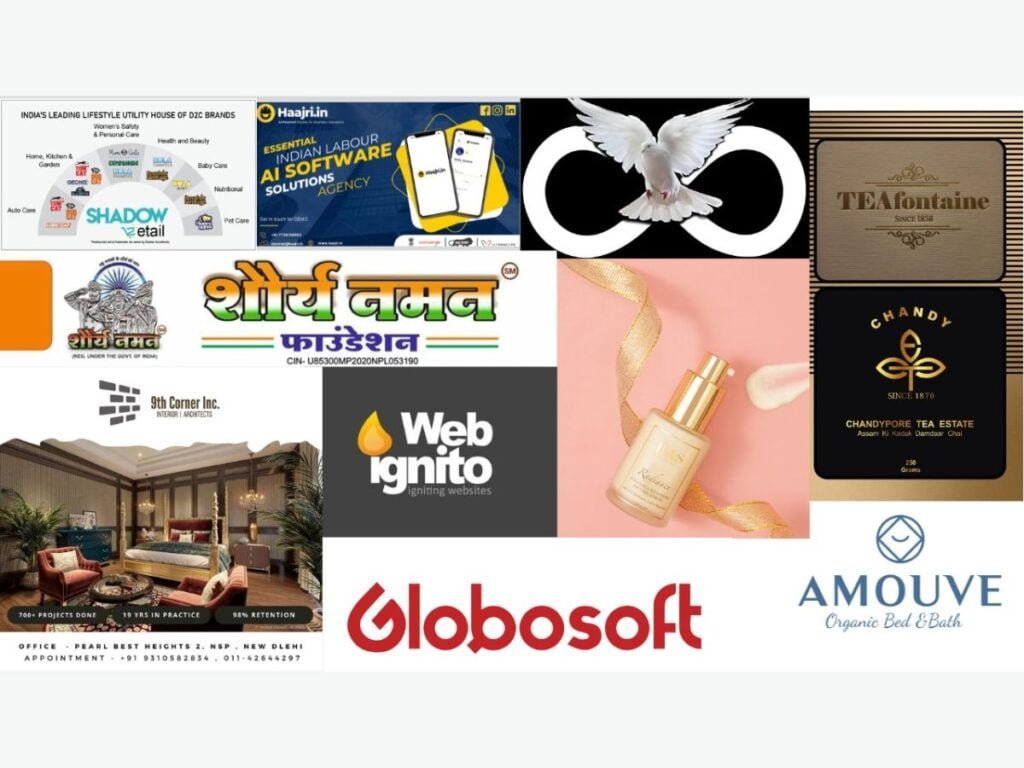 New Delhi (India), September 30: In the ever-evolving landscape of global business and innovation, the year 2023-2024 promises to be a pivotal moment in shaping the future. "The Top 10 Companies 2023-2024: Unveiled Leading the Future of Business and Innovation!" is a compelling exploration of the organizations at the forefront of this transformational journey. This exclusive compilation spotlights the visionary enterprises that have demonstrated exceptional leadership, groundbreaking innovations, and an unwavering commitment to driving progress. Join us as we delve into the stories and strategies of these trailblazers, uncovering the secrets to their success and gaining invaluable insights into the dynamic world of business and innovation.
1) Shadow Etail
Shadow Etail, India's leading D2C brand hub, offers a diverse range of utility brands in Auto Care, Home Care, Health & Beauty, Pet Care, and Personal Care. Honored as the "Start-up of the Year 2017," they've sold over a million products to over 10 lakh happy customers across India. With a remarkable Amazon India Seller Rank of #16 and the highest Amazon Premium Level rating, they've made a significant mark in e-commerce. Shadow Etail owns over 20 in-house manufactured brands and ensures lightning-fast delivery with warehouses in 10 states. Moreover, their commitment to social inclusivity includes eco-friendly products, employing special needs women, and operating a non-profit community pharmacy, Fin Pharm, benefiting over 10,000 customers monthly.
2) Haajri.in 
Haajri.in presents an innovative AI face attendance system tailored for factories and construction sites, with a primary focus on labourers. This cutting-edge solution streamlines the entire process, encompassing attendance tracking, payroll management, and compliance, all with a single click. Embracing traditional Indian methods, it even features built-in challan and expense management. With Haajri.in, companies can bid farewell to attendance fraud at its core, ensuring a more accurate and efficient system for managing their workforce, enhancing transparency, and boosting overall productivity.
3) InfinityVerse
InfinityVerse, a dynamic startup co-founded by Nikhil Soni and Sneha Gupta, is making waves in 2023-2024. Offering a diverse range of over 80 services through its user-friendly platform, this innovative company has gained substantial support from tech giants Microsoft and Google, with funding credits totaling up to $748,000, which shows their confidence and support for the company's vision and potential. InfinityVerse's CSR initiatives reflect its commitment to societal well-being and environmental sustainability. Headquartered in Satna, Madhya Pradesh, India, the company also provides job opportunities and boasts a diverse team with experience at companies like Meta, Google, Microsoft, and Apple, earning recognition from Forbes and tech events.
4) Web Ignito: Your Trusted Digital Marketing Partner in Navi Mumbai
Web Ignito, a dynamic digital marketing agency in Navi Mumbai, leverages the power of AI to deliver results-driven solutions. Our team embodies creativity, innovation, and a strong data-driven approach to ensure your brand's success.
But we are more than just marketers; we are a caring community dedicated to giving back. We volunteer our services to local businesses, assisting startups and corporate giants alike. With free digital marketing consultations, we empower businesses to thrive online.
Choose Web Ignito for a partner that not only cares about your success but also the community we serve.
5) Amouve 
Amouve is a pioneer in the luxury organic bedding, bath and home segment from India. The young brand crafts sumptuous bed sheets, bath towels, organic Kapok pillows, signature waffle blankets, toxin-free bio sofa seaters made of tree-grown Kapok fibre, Latex & Coir Mattresses, table linen, cushion covers among others. Crafted from the finest long-staple organic cotton and Belgian Linen, each product encapsulates rejuvenation of the body and mind. With a cruelty-free, organic and farm to fabric ethos, Amouve has helped Indian farmers get a higher remuneration for their cotton and escape health hazards and the GMO debt-trap. Amouve ships worldwide, offers customization according to client's sizes and counts Taj hotels among its many patrons.
6) RAS®
RAS® (pronounced 'ruh-us' which means essence & happiness in Sanskrit) is transforming the premium skincare and beauty industry in India with its high-quality natural ingredients and potent scientific formulations which are manufactured at the company's proprietary vertically-integrated research facility and farms in Raipur, Chhattisgarh. Through its products, RAS® aims to champion and leverage India's vast bounty of natural ingredients and rich history of nature-based beauty products. RAS® Luxury Skincare started out with a simple philosophy – to create a skincare brand that was transparent, pure, and responsible.
7) Shaurya Naman Foundation
Shaurya Naman Foundation is an NGO that is engaged in serving the families of immortal martyrs who sacrificed their all for the country. Founder, Mr. Ramesh Chandra Sharma "Bharat". Along with his close ones, he is doing the main work of Shaurya Gatha, along with providing pilgrimage, education, health, and construction and maintenance of the monuments. Shaurya Naman has become India's leading NGO, serving the families of soldiers. The brand ambassador of the NGO is Abhishek Gautam, who has a permanent tattoo of the names of 670 martyrs on his body, which is a world record in itself.
8) Chandypore and TEAfontaine1858
Chandypore and TEAfontaine1858 are tea brands, belonging to the Juarmall Tusnial family, a tea dynasty with a rich heritage dating back to 1858, offer the finest ASSAM KADAK DAMDAAR CHAI as well as the exquisite White, Oolong and Roasted teas. They boast 17000 hectares of eco-friendly tea plantations globally, supporting 13700 underprivileged families. Their commitment to sustainability includes renewable energy, recycling, and biomimicry in various sectors and verticals. From humble beginnings with 18 Crore INR revenue in 1997, they've grown impressively to 2560 Crore INR in 2022, with plans to expand 20% annually from 2025 including a stock exchange listing. Their exquisite teas, cherished by royals and elites (Rothschild et al) worldwide, embrace cutting-edge tech like AI and drones, staying true to nature's beauty
9) Globosoft
Globosoft, headquartered in Kochi, India, is a leading authority in web design, digital marketing, and eCommerce development. With a decade of experience and a portfolio of over 2000 successful projects, they have a global presence in 30+ countries, including offices in France, Canada, and the UK. CEO George Thomas Kochery, a renowned figure in digital marketing, leads a passionate team dedicated to bringing clients' ideas to life. Their services encompass comprehensive web-based IT solutions, innovative website design, and cutting-edge digital marketing strategies. Globosoft's unwavering commitment to quality and innovation makes them the preferred choice for clients seeking online success under George Thomas Kochery's visionary leadership.
10) 9th Corner Inc.
With a remarkable 19-year legacy, 9th Corner Inc. shines as an architectural gem in the industry. Their extensive portfolio of over 700 projects showcases their unmatched prowess as both interior designers and architects. Renowned for redefining design innovation and craftsmanship, they boast an extraordinary 98% customer retention rate, a testament to their unwavering commitment to excellence. As the preferred choice for interior and architectural needs in Delhi, Gurugram, and Noida, 9th Corner Inc. beckons you to explore their realm of limitless creativity. Visit www.ninthcorner.com or dial +91 9310582834 for more information. Experience excellence today with the best interior designer in Delhi, Gurugram, and Noida, and the finest architect in India. +91 9310582834
 
You can find all the links you need by accessing the linktree provided in the following link: https://linktr.ee/njain17 
If you have any objection to this press release content, kindly contact pr.error.rectification@gmail.com to notify us. We will respond and rectify the situation in the next 24 hours.